Recent Work
Gillian works with residential and commercial clients, alongside collaborating with other Garden Designers at various Royal Horticultural Society (RHS) and other shows and events, including at the world famous Chelsea Flower Show.
Royal Horticultural Society (RHS) Chelsea Flower Show
Gillian Goodson assisted 15-time RHS Gold Medal winner Sarah Eberle again at the 2018 Chelsea Flower Show. Gillian, affectionately and professionally known as Sarah's 'right arm', supported the build of the Hillier exhibit in the Great Pavilion, which won its 73rd consecutive Gold Medal, and The British Council Garden - India: A Billion Dreams in the Artisan category.
Watch the The Plants - Stihl Inspiration video to find out more about the Hillier exhibit plants launched at the Show, as well as some of the other exciting plants featured in the gold medal award-winning garden.
Since achieving RHS Gold with the Hillier Staging Team in 2013 while a garden-design student, Gillian has been fortunate to continue working annually at RHS Chelsea Flower Show with:
Paul Hervey-Brookes - BrandAlley Renaissance Garden 2014; Fernando Gonzalez - Pure Land Foundation Garden 2015; and Sarah Eberle - Viking Cruises Mekong Garden 2016, and Hillier Nurseries' Spring Time Garden 2017; Sarah Eberle - Viking Cruises Garden of Inspiration 2017, and Hillier Nurseries' Spring Garden 2017; and Sarah Eberle - The British Council Garden - India: A Billion Dreams 2018, and Hillier 'Stihl Inspiration' Garden 2018; Sarah Eberle - The Resilience Garden on Main Avenue - The Forestry Commission and Gravetye Manor 2019.
Covent Garden in Bloom: Chelsea Fringe 2018
As part of Covent Garden in Bloom and Chelsea Fringe 2018, Gillian designed and created a pop-up installation for Capco Covent Garden in the famous London landmark's East Piazza in collaboration with Darran Jaques, and Covent Garden's new head gardener, Kenny Raybould, titled 'Moments of Reflection'.

Chelsea Fringe is separate to the RHS Chelsea Flower Show.
Royal Horticultural Society (RHS) Early Spring Fair 2018
Gillian collaborated with Urban Creations to design a temporary pop-up installation outside Westminster Cathedral (opposite London Victoria Station) for the Royal Horticultural Society (RHS).
They were given the bistro table and chair and were asked to create a feeling of spring - in February - to promote the opening of the RHS Early Spring Fair at Lindley Hall, London, and to attract attention via social media: #RHSLondon.
Starting on site at 5.30am, working in -2C with the assistance of two street lamps, the pop-up had to be finished by 7am in time for early- morning commuters. It was to be dismantled later that evening and then reinstalled 'live' at Lindley Hall while guests were arriving.
The installation included the proverb, No matter how long the winter, spring is sure to follow.
Gillian Goodson Designs Projects
Gillian Goodson Designs has undertaken diverse projects and consultations in Lincolnshire, Nottinghamshire, Rutland, Suffolk, Hertfordshire and London. Gillian has also collaborated with fellow designers in Ireland and consulted on projects in Australia.
We value client confidentiality.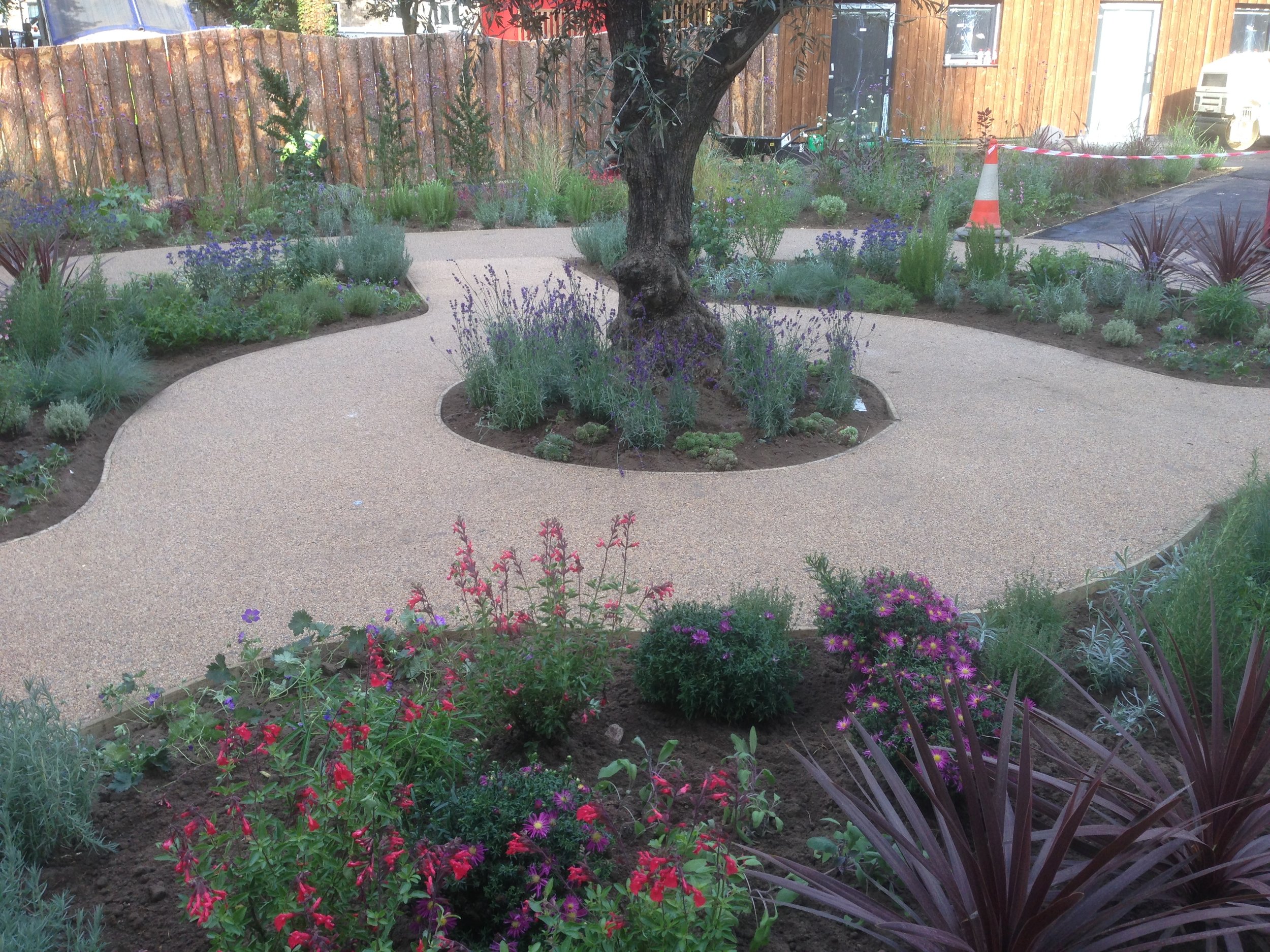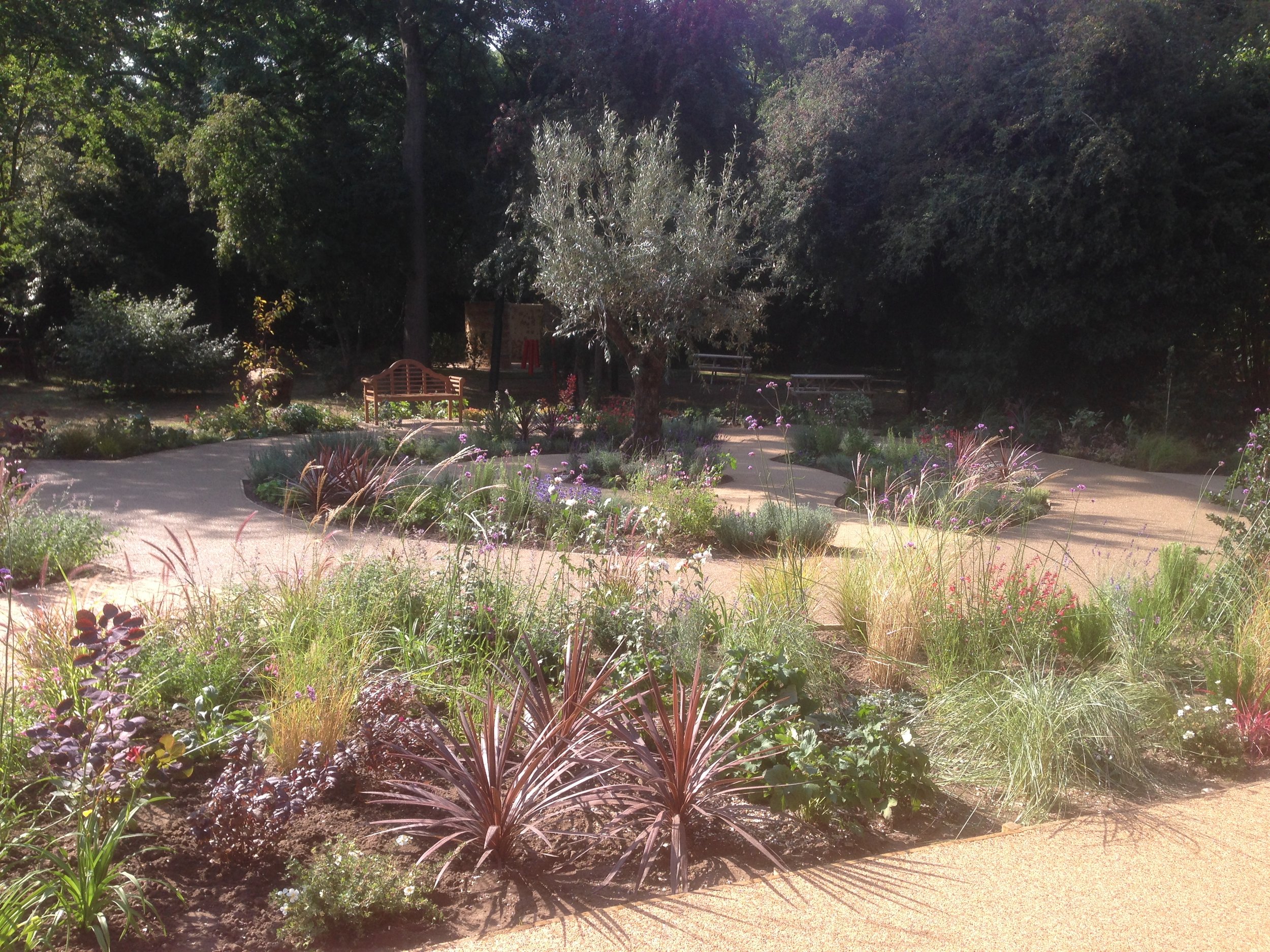 BBC Children in Need DIY SOS Big Build
Gillian had the opportunity to support BBC Children in Need 2013 when working with the DIY SOS Big Build Challenge Team for the Little Miracles charity in Peterborough. Little Miracles offers a unique lifeline for families of children with complex additional support needs.
It was an ambitious project by the whole team requiring them to completely rebuild the centre and gardens with only 9 days to complete. The team included the internationally-renowned designers: Chris Beardshaw and Nina Campbell.